ProForm U® Mediation Services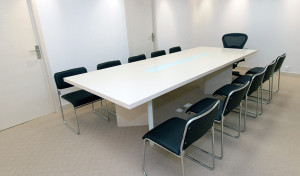 In our fast-tech economy, organizations are acutely aware of the relationship between conflict and bottom line. Text, email and even Skype can foster disagreement and breakdown communications. Teams and individuals feed mounting issues using technology rather than resolving matters face-to-face. The result is reduced creativity, productivity and loyalty.
Mediation enables individuals and teams to utilize conflict resolution processes based on highly effective mediation practices used in our courts.
Legal mediation is typically 85% successful. Organizations can likewise resolve conflict by learning to use the same techniques employed by legal mediators.
Access a non-judgmental forum to share mutual concerns
Meet face-to-face to communicate openly with one another
Identify and address crucial obstacles overlooked day-to-day
Gain better understanding of needs and interests regarding "hot points"
Collaborate to craft custom resolutions acceptable to all
Maintain control over vital decisions affecting daily life and career
Generate agreements that outline how the parties will collaborate in the future
Utilize mediation technique to enhance interpersonal relationships and build strategic partnerships
Resolve future conflict using acquired skills
Mediation FAQs
Q: Why should you or your company employ ProForm U® Mediation?
A: Conflict happens even among the most productive. Mediation gets to the heart of issues that impede creativity, innovation and progress.
Q: How does ProForm U® Mediation add value?
A: Using courageous conversations, team members are empowered by joining in a process to better understand one another, overcome obstacles and create negotiated agreements through facilitated, honest discussion.
Q: Which relationships are appropriate?
A: At-risk organization-client relationship
A: Intra-organization team/divisional partnerships
A: Valued employees and team members who must collaborate, but struggle
A: Team and service provider relationships requiring better communication
Q: How long is Mediation?
A: It depends on issues and number of parties. Mediation can take two hours or continue as long as participants believe they're working productively. Because of time constraints, parties often schedule a continuation.
Q: Why Use An Outside Third Party?
A: Outside mediators are neutrals without organizational ties nor vested interest in outcomes. Independence encourages honesty, trust and open discussion.
Q: What's the format?
A: These are the components of a mediation:
Pre-Meeting:
Before joint discussion, mediator meets with parties individually outlining desired objectives
Introduction:
Overview of the process, mediator's role and ground rules
Joint Discussion:
Participants explain their perspectives without interruption
Agenda Setting:
Based on joint discussion, mediator and participants develop and agree on agenda
Caucus:
To generate movement, the mediator may hold private meetings with each party
Agreement:
Develop document outlining how participants will collaborate going forward. Each party signs and receives a copy to encourage adherence and provide reference in non-compliance
Mentoring:
Individual mentoring is available, assisting team members in compliance and conflict resolution skill building
In need of ProForm U's Mediation Services?
Have a conflict that ProForm U could help resolve?  Give us a call at 417-763-6768 or use the contact form below.